Why Amanotes?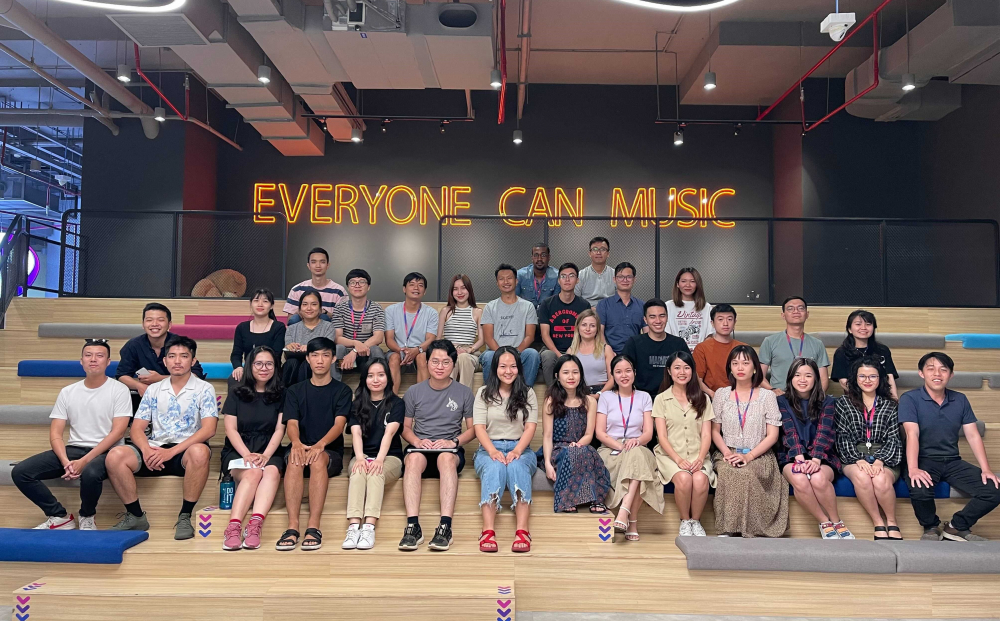 We are Amanotes! A fast-growing startup in the music-tech industry. We seek to delight people with interactive music experiences. Since 2014, 30+ music games and mobile applications were published under our name with over 1.6 billion downloads worldwide and 95+ million monthly active users. In 2019, we were proudly listed as the #1 mobile apps publisher from Southeast Asia, the #1 music games publisher in the world, and one of the top 20 mobile apps publishers in the world across all categories.
Explore our world- class products on Google Play and iOS App Store such as Magic Tiles 3, Tiles Hop, and Dancing Ball.
If you love to work in a creative environment with music all around the corner, come join us!
A fun workplace like no other 
When the doorbell rings, guaranteed you will be greeted with the warmest smile. Be prepared for a music-filled journey where we welcome our teammates with exciting first-day performances, quarterly events, musical classes and more!
Where different minds share the same vision
Come and see how a multinational workplace can speak the same language of music. At Amanotes, you will always experience the global environment, and together deliver world-class products.   

Hoang Yen - Motion graphic Designer
The cool thing of Amanotes is that people always know how to surprise you. On my first working day, my team gave me an amazing performance of "What makes you beautiful" with guitar and cajon. They made me special.

Joining Amanotes, I learn how to adapt and improve myself, every day is a new challenge.  
Nghi Nguyen - Technical Manager   
At Amanotes, we work hard and play hard. The most impressive thing of our company? Music Night - the internal music show held every 3 months that make our office feel like home. We enthusiastically practiced for weeks - these tech guys beside me unexpectedly become such amazing singers on stage. The coolest skill I've learned here is running. We have an internal marathon group where we motivate each other to run regularly, maintaining our work-life balance. Rahul Ravindranath - Product Strategist  
One thing I love from Amanotes is the flexibility to work from anywhere. Whether you'd like to focus on a specific task, brainstorm with your colleagues or get into a meeting and work things out with stakeholders, there's always that option. Also, adaptability is key. Being an expatriate working in Vietnam comes with some challenges, especially the language barrier. I've found myself in many meetings where we need to go back and forth to ensure that everyone is on the same page. Challenge accepted. Now I'm cool.  


Nadiia Marchynska - Performance Marketing Specialist
Working at Amanotes pushed my artistic side in extra activities and daily works, which were not that artistic on default. Surrounded by music all the time makes your job full of cool emotions and binds you up with your team like your own family. As long as you are enthusiastic and devoted, Amanotes won't let you down.   

Cameron Lynch - Product Specialist
As an international employee, working abroad can be difficult if you do not have the proper support system. But moments like musical orientation and sudden music jam sessions with co-workers and lots of after-work activities make the move to another country easy. Additionally, I also received a large amount of support from co-workers in simple things, from knowing the company structure to the complex components of musicalizing games.   



Nga Nguyen - Data Analyst
Amanotes is the most incredible company I have ever worked for. I'm extremely proud of conquering challenges everyday with my lovely Publishing team. We have a unique culture where I can burst out singing in the office and receive a big applause no matter how bad my voice can be. I have learned so much about music, piano, singing, board games and poker after a long day of work. Yaro - Marketing Manager

I was surprised to see that Amanotes hold lots of open discussions and transparent feedbacks, which contrasts to my prejudices in Vietnamese hierarchical business culture. Amanotes has a unique balance between rules and chaos. You know your role and goals clearly, yet you can initiate changes at any time. You have your working hours, yet you can take your team to work from a cafe for the whole day if you need a refill. Joining Amanotes could be a life-changing moment. Bill - CEO and Co-founder   
The major success of Amanotes is built on a solid bedrock of previous failures. Before Amanotes, I have had my fair share of failures until I met Silver, a brilliant guy who shared the same vision with me. If you go with the guy who has failed many times, you will know how to avoid mistakes. If you go with a successful guy, you will learn how to do the right things. If you go with Amanotes and me, you have both.   

Silver - Co-founder
I started with Amanotes from scratch doing anything from recruitment to product & marketing. I now oversee product strategies at company level as well as the operations of several key products/businesses. I am always proud of the impacts that Amanotes made to millions of people around the world everyday. People ask me whether I'm a great leader. No, I'm not. I mean there is no leader or boss in Amanotes. Everyone is a leader, ownership, and freedom is encouraged.  
Inside review about Amanotes